Public Hearing

When: Thursday January 18, 2018 at 7:00 PM (Note: this date is tentative since the state
is in negotiations with NorthStar and Entergy).
Where: Brattleboro Union High School, multi-purpose room, 131 Fairground Road, Brattleboro, VT. (East side entrance past the gymnasium.)
What: Public hearing on the Vermont Yankee Sale and Clean-Up.
Prior to the public hearing, at 6:00 P.M, the Vermont Department of Public Service will host an information session by the Petitioners during which time they will be available to answer questions regarding the transfer of ownership.

More info

LATEST NEWS:
'Substantial progress' reported in Vermont Yankee sales talks
---
National Grassroots Activist Summit on Radioactive Waste

When: Starts Friday, March 16 with Dinner at 5:00 PM, ends 4:00 PM on Sunday, March 18, 2018.
Where: Cenacle Retreat House, 513 W Fullerton Pkwy, Chicago, IL.
What: NIRS.org, NEIS.org, and CAN and our allies on the Summit Planning Group invite groups to co-sponsor, and our community—who share the goal of working towards a non-nuclear energy policy—to attend the follow-on from the Summit in December, 2016 also in Chicago.
Program will be announced (a webpage will be up soon), but this is primarily a working retreat to build on our commitments to end Yucca, stop consolidated offsite storage in NM and TX, and implement HOSS.

REGISTRATION is open NOW.
Early-Bird rate applies only until February 1.
(Limited Scholarship support available.)

Summit Registration form
Pay on line

If a group would like to become a SUMMIT cosponsor, please reply to maryo@nirs.org or contact Dave Kraft: neis@neis.org.
---
HD 4413—An Act Increasing Nuclear Power Plant Protections to a Fifty Mile Radius

HD 4413-increasing nuclear power plant protections to a fifty mile radius.
This bill was formerly H. 2031 and passed the Joint Committee on Public Safety last session (2015/16), the first time a bill was introduced for a 50 mile expansion. In lieu of refiling this legislative year, Rep. Peake filed H. 2472 so Boston Downwinders approached Rep. Balser to late-file this bill.

Please contact your Massachusetts legislator to support this bill.
---
Call to Action
Cape Downwinders completed a successful ballot question campaign to move fuel out of the pool at Pilgrim to dry cask storage. All 15 towns supported the measure. This was a good opportunity to discuss the reality that Plymouth is a nuclear waste dump and citizens should have some say about it.
We are now encouraging other towns to take up this measure. For information on how to get started—and it is easy—email capedownwindersinfo@gmail.com.
Cape Downwinders have testified at the MA State House on bills related to emergency planning, radiation monitoring, and decommissioning funds. For links to the bills, go to: http://bit.ly/2Afx4hr
---
We are at a tipping point in insuring that our children have a safe and clean future. Don't let the Trump administration undermine all the good work that we have done.
---
Environmental Justice and Nuclear Waste:
The Road from Vermont Yankee to Texas
Friday, May 5, Montpelier, VT
With speakers Kevin Kamps, Rose Gardner, and Deb Katz.
Video by Orca Media
---
Contact Your Senator!

On September 11, 2017, 57 National, regional, and local groups from all across the US have signed the coalition letter, urging all 100 U.S. Senators to vote against confirming Trump's nominees to the U.S. Nuclear Regulatory Commission, Annie Caputo and David Wright.
Contact your senator to follow up about this matter, to bolster our case and chances.
---
Don't Let #DirtyEnergy Trump the Climate
Trump refuses to spend any money to support climate action, but he can't wait to give mountains of our hard-earned cash to dirty energy executives for more global warming and nuclear waste. We need to stop him, and move toward 100% renewable energy now.

Help us stop the Trump administration's attack on renewable energy!

Hurricane Harvey's path narrowly missed a direct hit on the South Texas Project nuclear reactors, which was nearly flooded by the Colorado River.

Sign the petition
---
Say NO to the "Nuclear Waste America" Bill!
Nuclear power produces highly radioactive nuclear waste with no place to go because, guess what—there is no safe place to store it! Moving highly radioactive nuclear waste is INCREDIBLY DANGEROUS!
Say NO!

Or contact your U.S. Representative directly, look up their phone number here.
In June, a group letter went to Shimkus and his Co-Chair OPPOSING THE BILL, signed by 49 organizations. The letter is a great source of talking points. You can also send the letter itself if you email your US Representative.
Does your Rep have nuclear waste transport routes in his/her congressional district? Find out here.
---
Stop the Nuclear Tax Bailout!
Last month, we told you about a bailout the nuclear industry is trying to push through Congress. Despite a multi-billion-dollar price tag, they are still at it. And if they can't win a vote on the bill (HR 1551), they may resort to sneaky tricks, like adding the tax breaks to the budget bill or another energy bill. If we can stop them, it could stop new reactors and end the so-called "Nuclear Renaissance" (what we call a "Relapse"), once and for all.
Contact your senators now: "Stop the Nuclear Tax Bailout!"

Say NO!
---

. . . The world no longer needs to build nuclear power plants to avoid climate change and certainly not to save money. If you have any doubt about that fact please read the World Nuclear Industry Status Report 2017.
Foreword by S. David Freeman
The report makes clear, in telling detail,
that the debate is over
---
Couldn't join the nuclear waste tour in New England, but want to find out about
nuclear waste?
Watch this video with the presenters in Brattleboro, VT on May 6, 2017— by BCTV.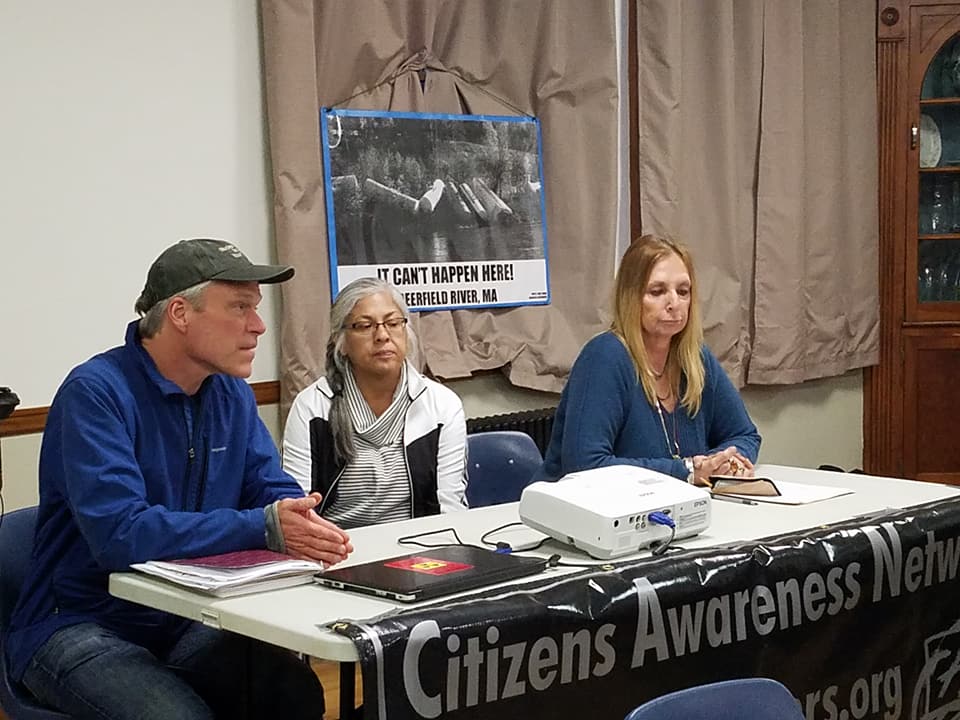 ---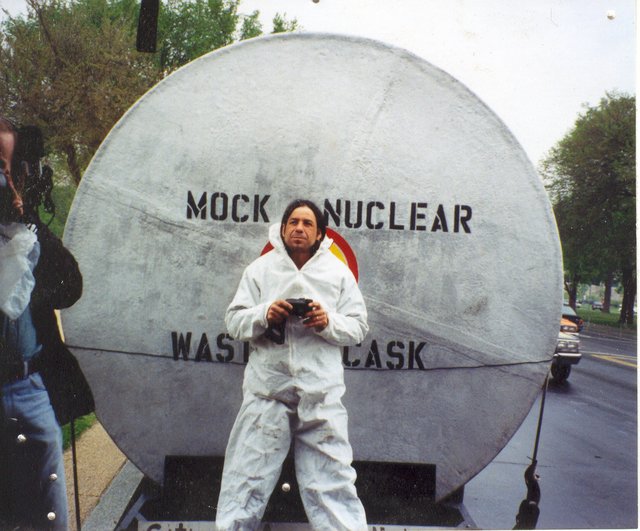 Watch this video from Deb Katz about HLNW and Yucca Mountain
---
Volunteer(s) Wanted CAN is looking for volunteers to rehab our mock high-level waste cask. No experience with radiation necessary!